How to Find Zombie Content on Netflix
Explore the best way to find zombie content on Netflix with our comprehensive guide, and dive into the world of the undead today!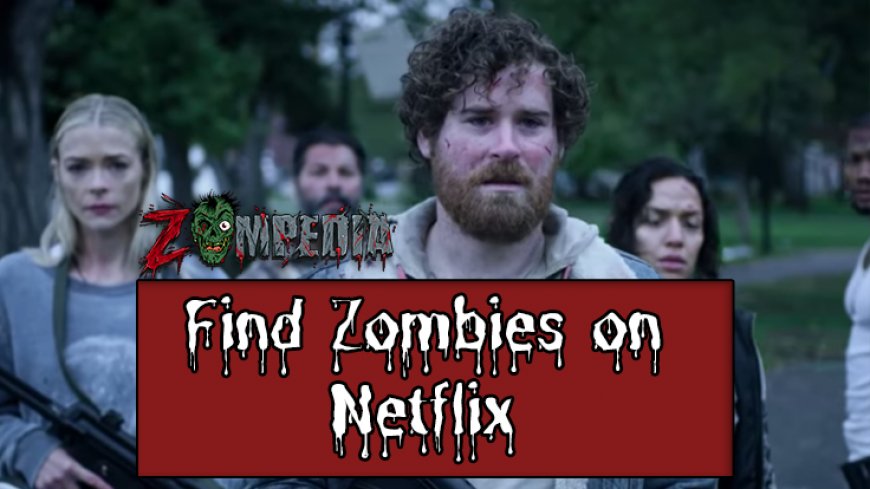 A shot in a zombie show that is on Netflix. Including a title that explains the article.
In recent years, zombie-themed movies and TV shows have been immensely popular. The undead has crept their way into various genres and have appealed to a wide array of audiences. Netflix, as one of the leading streaming platforms, has a plethora of zombie content, ensuring that fans of this subgenre have plenty to choose from.
In this guide, we will explore the best way to find and enjoy zombie content on Netflix. From learning how to search for your next undead binge-watch to discovering hidden gems, this comprehensive guide has got you covered.
Table of Contents
How to Search for Zombie Content on Netflix
One of the easiest ways to find zombie content on Netflix is utilizing the platform's search function. Simply type the word 'zombie' or other relevant terms, such as 'undead' or 'apocalypse,' in the search bar, and Netflix will display all available zombie-themed movies and TV shows.
Here are a few tips to make your search more effective:
Use specific keywords: Try using more specific search terms, such as 'zombie comedy' or 'zombie horror,' to narrow down the results and find content that matches your preferences.



Browse categories: Netflix often categorizes movies and TV shows under different genres. Browse through categories like 'Horror,' 'Sci-Fi,' or 'Thriller' to find zombie content mixed with other titles.




Check out Netflix's recommendations: Based on your viewing history, Netflix will recommend content that you may enjoy. Keep an eye on your 'Recommended' or 'Because you watched' sections for potential zombie flicks.
Netflix offers a wide array of popular zombie movies and TV shows for you to sink your teeth into. The list below showcases some of the most celebrated titles in the zombie genre currently available on the platform.
Train to Busan (2016) - This South Korean film quickly became a worldwide hit, thanks to its thrilling storyline and intense action sequences. The movie follows a group of passengers aboard a train as they try to survive a sudden zombie outbreak.
Z Nation (2014-2018) - This action-packed TV show mixes zombies with post-apocalyptic survival. Set three years after a zombie apocalypse, a group of survivors must transport a man who could hold the key to saving humanity across the country.
Kingdom (2019-Present) - This South Korean historical drama introduces zombies into a medieval Asian setting. As a mysterious plague starts turning people into the undead, the Crown Prince must uncover the truth and save his people.
Black Summer (2019-Present) - Set in the same universe as Z Nation, this prequel series focuses on the early days of the zombie apocalypse. The story follows a group of survivors as they navigate the dangerous, crumbling world.
World War Z (2013) - Based on the novel by Max Brooks, this big-budget Hollywood film stars Brad Pitt as a United Nations investigator trying to find the source of a global zombie outbreak.
These are just a few examples of the top zombie movies and shows on Netflix. The platform continuously updates its library, so be sure to keep an eye out for new additions and returning favorites.
In addition to the popular titles mentioned above, there are several lesser-known zombie-themed movies and series worth exploring. These hidden gems may not have received widespread acclaim, but they offer unique takes on the genre and are definitely worth a watch:
Ravenous (2017) - This French-Canadian film brings a fresh twist to the zombie genre by exploring themes of humanity, survival, and morality. Set in a rural, post-apocalyptic world, the movie tells the story of a group of survivors who must navigate an ever-threatening landscape.
Dead Set (2008) - This British horror miniseries is a clever mix of reality TV and the undead. The plot revolves around the contestants of a fictional reality show called "Big Brother," who must deal with a sudden zombie outbreak.
The Rezort (2015) - Blending elements of action, horror, and dystopian sci-fi, this British film offers an interesting take on post-apocalyptic tourism. In a world where a zombie outbreak has been contained, a luxury resort offers the chance for thrill-seekers to hunt the undead for sport, but things quickly go awry.
Popular Zombie Content on Netflix
Netflix is always working on adding new zombie content to its ever-growing library. In addition to the periodic release of new seasons for existing series, the platform also introduces entirely new movies and shows that cater to zombie enthusiasts. Here are some popular zombie titles to look into:
Army of the Dead (2021) - Directed by Zack Snyder, this highly anticipated film revolves around a group of mercenaries attempting a heist during a zombie outbreak in Las Vegas. This film has a great touch of comedy that zombie fans will love.




Day of the Dead (2021) - Based on George A. Romero's classic film, this TV series is set to explore the early days of a zombie apocalypse.
Resident Evil (TBA) - Fans of the popular video game franchise can rejoice as Netflix is developing a live-action series adaptation, delving deep into the Resident Evil universe.
Keep an eye out for announcements and trailers for these and other new zombie content coming to Netflix in the near future.
Conclusion
Netflix is a treasure trove for fans of zombie content, offering a wide variety of movies and TV shows that cater to different tastes. By following the tips in this guide, you can easily locate and enjoy the best of the undead on the platform. So, go ahead and dive into the world of zombies on Netflix, where every day can be a thrilling fight for survival!
As new titles are periodically added, it's essential to stay updated with the latest zombie-themed releases. Don't forget to browse through different categories, check out recommendations, and keep an eye on the upcoming content to ensure you never miss out on your favorite zombie adventures.
What's Your Reaction?