Top 10 Hilarious Zombie Movies to Keep You Laughing
Check out our top 10 comedy zombie movies that'll keep you laughing during a zombie apocalypse. These hilarious films perfectly combine humor and horror.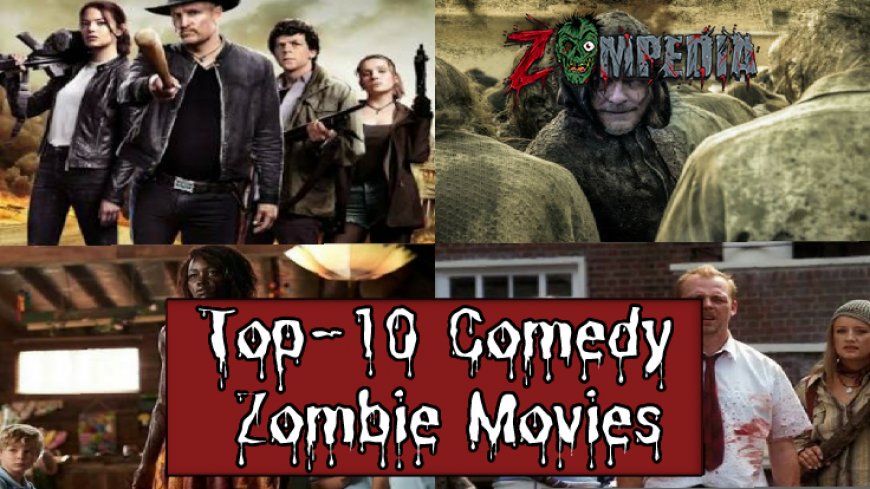 Top 10 Hilarious Zombie Movies to Keep You Laughing
Comedy zombie movies have been a popular subgenre of horror that offers a unique blend of humor and gore. Whether you're a die-hard zombie enthusiast or a casual horror fan, these films provide hilarious entertainment while still delivering on the frights and scares. In this list, we're bringing you the top 10 comedy zombie movies that are perfect for a laugh-filled night in. From cult classics to recent releases, we've got you covered with the perfect combination of lighthearted adventure and apocalyptic mayhem.
Table of Contents
1. Shaun of the Dead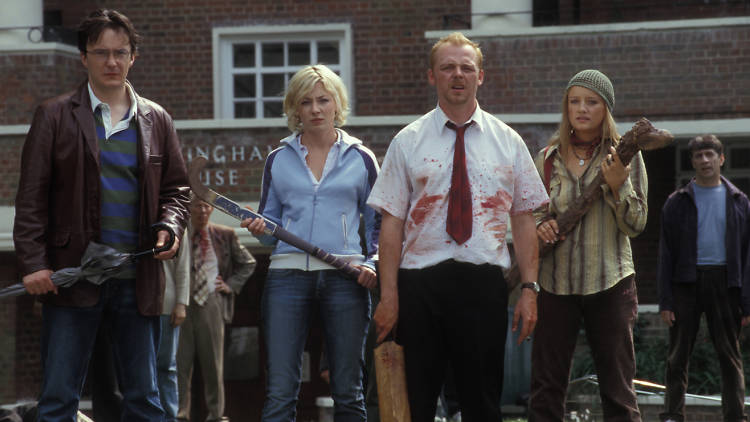 Director: Edgar Wright
Widely regarded as the quintessential comedy zombie movie, Shaun of the Dead is a British horror-comedy that tells the story of Shaun (played by Simon Pegg), an ordinary guy who must lead his friends and family to safety during a sudden zombie apocalypse. With its clever script, perfect comedic timing, and a mix of satire and slapstick humor, this hilarious take on the genre became an instant cult classic upon its release in 2004.
Key reasons to watch Shaun of the Dead:
Witty dialogue and character interactions
Inventive zombie kills
Homage to George A. Romero's classic zombie films
Stellar British cast, including Simon Pegg, Nick Frost, and Bill Nighy
Director: Ruben Fleischer
Released in 2009, Zombieland quickly gained popularity for its mix of gory zombie action, quirky characters, and tongue-in-cheek humor. The film follows a group of survivors, led by a nerdy college student (played by Jesse Eisenberg), as they navigate a post-apocalyptic America overrun by zombies. Along the way, they encounter a gun-toting, Twinkie-obsessed Tallahassee (Woody Harrelson), and sister duo Wichita and Little Rock (Emma Stone and Abigail Breslin), all while adhering to a strict set of "rules" to stay alive.
Key reasons to watch Zombieland:
Memorable characters with great chemistry
Engaging blend of humor and action
Iconic cameo by Bill Murray
The rules for surviving a zombie apocalypse, such as "Cardio" and "Double Tap"
3. The Dead Don't Die
Director: Jim Jarmusch
The Dead Don't Die is a 2019 American horror-comedy film that takes a deadpan, tongue-in-cheek approach to the zombie genre. With an all-star cast including Bill Murray, Adam Driver, Tilda Swinton, and Chloë Sevigny, this film follows the residents of the small town of Centerville as they deal with a sudden zombie outbreak caused by polar fracking.
Key reasons to watch The Dead Don't Die:
A-list actors embracing the absurdity of the situation
Subtle, dark humor throughout
Unique and quirky visual style
Winks and nods to other zombie films and pop culture references
4. Dead Snow
Director: Tommy Wirkola
As if a zombie outbreak isn't bad enough, Dead Snow introduces a terrifying combination: Nazi zombies. This 2009 Norwegian comedy-horror film follows a group of friends on a ski vacation who inadvertently unleash a horde of blood-thirsty, undead Nazi soldiers. With its blend of graphic gore, dark humor, and outlandish premise, Dead Snow has gained a dedicated cult following over the years.
Key reasons to watch Dead Snow:
Unique take on zombie villains with a historical twist
Intense, action-packed sequences
Scenic winter landscapes provide a unique setting
Nods to classic zombie and horror films
5. Juan of the Dead
Director: Alejandro Brugués
Set in Havana, Cuba, Juan of the Dead is a 2011 comedy-horror film that offers a fresh, unconventional setting for a zombie outbreak. The movie follows Juan, a local slacker, and his friends as they launch a zombie extermination business amid the chaos of the undead invasion. With its quick-witted humor, social commentary, and fun kills, Juan of the Dead delivers a unique twist to the comedy zombie genre.
Key reasons to watch Juan of the Dead:
Refreshing setting and cultural nuances
Entrepreneurial approach to a zombie apocalypse
Sharp wit and satire
Interesting characters and relationships
6. Warm Bodies
Director: Jonathan Levine
Warm Bodies is a 2013 American supernatural romantic zombie comedy film that breathes new life into the zombie genre by focusing on the awkward love story between R, a zombie (Nicholas Hoult), and Julie, a human survivor (Teresa Palmer). As their relationship develops, it sparks changes within R and the rest of the undead population. This charming, lighthearted zombie film offers a unique spin on the familiar theme of love transcending all boundaries.
Key reasons to watch Warm Bodies:
Romance-meets-zombie-film concept
Unconventional zombie perspective
Heartfelt story with a touch of comedy
Great soundtrack and cinematography
7. DeadShack
Director: Peter Ricq
In DeadShack, a group of teenagers on a family vacation must band together to save their parents from their murderous neighbor. This indie Canadian horror-comedy film from 2017 delivers a stylish, low-budget option for zombie fans who enjoy a mix of dark humor and bloody violence. DeadShack's protagonist is a relatable and resourceful teenager who must tackle the terrifying situation he and his family find themselves in.
Key reasons to watch DeadShack:
Innovative indie film spirit
Resourceful and relatable teenage protagonist
Trapped-in-the-woods tension
Grisly practical effects and action
8. Anna and the Apocalypse
Director: John McPhail
This British zombie musical comedy, Anna and the Apocalypse, adds a new twist to the well-trodden genre by incorporating catchy songs and high-energy choreography amid the undead chaos. The film follows Anna and her friends as they battle to survive a zombie apocalypse during the Christmas season. Combining horror, humor, and heartwarming moments, this 2017 movie is a fresh take on the zombie genre that will have you tapping your feet and laughing out loud.
Key reasons to watch Anna and the Apocalypse:
The unique concept of a zombie musical comedy
Memorable and catchy songs
Stellar performances by a young cast
Equal parts funny, gory, and heartwarming
9. Life After Beth
Director: Jeff Baena
Life After Beth is a 2014 zombie comedy film that centers on the relationship between Zach (Dane DeHaan) and his deceased girlfriend, Beth (Aubrey Plaza), who mysteriously comes back to life. As they attempt to pick up where they left off, Zach soon realizes that Beth's condition is rapidly deteriorating, putting their strange reunion on a sinister trajectory. This zombie rom-com cleverly showcases the lengths people will go for love, even in the midst of a supernaturally complicated situation.
Key reasons to watch Life After Beth:
Excellent performances from Aubrey Plaza and Dane DeHaan
Blend of romance, comedy, and undead drama
Wry, offbeat humor throughout
Exploration of love and loss in the context of a zombie apocalypse
10. Zombie Strippers
Director: Jay Lee
In this outrageous 2008 comedy-horror film, Zombie Strippers, a secret government experiment goes awry, turning a group of exotic dancers into zombies. Infused with a mix of dark humor, social satire, and campy horror, this cult film showcases the over-the-top premise in a way that is equal parts outrageous and entertaining. With a memorable performance from Jenna Jameson, Zombie Strippers is a must-see for fans of B-movies and horror-comedy.
Key reasons to watch Zombie Strippers:
Campy, B-movie humor and horror
Memorable performances from adult film star Jenna Jameson and Freddy Krueger himself, Robert Englund
Unexpected social commentary within the absurd premise
A blend of horror, humor, and pure entertainment
Conclusion
You now have a list of 10 top comedy zombie movies to enjoy and laugh through, whether you're looking for iconic classics or hidden gems. From lighthearted romance to campy B-movies, these films showcase the diverse possibilities within the comedy zombie genre. Don't hesitate to dive into these movies, and allow yourself to discover how humor and horror can go hand in undead hand. Be sure to share your favorites with fellow zombie and comedy enthusiasts.
What's Your Reaction?