Adorable Plants vs Zombies Plush Toys: A Perfect Collection for Fans
Discover the world of Plants vs Zombies plush toys and expand your collection with our ultimate guide. Find favorites, special editions, and more!
Adorable Plants vs Zombies Plush Toys: A Perfect Collection for Fans
Plants vs Zombies is a popular tower defense game that has captured the hearts of millions with its quirky and lovable characters. As the fan base has grown, so too has the desire for collectibles and memorabilia, and Plants vs Zombies plush toys are no exception. These adorable and cuddly companions are perfect for collectors, casual fans, or anyone who loves the game. In this guide, we're going to explore the world of Plants vs Zombies plush toys, from popular characters to buying advice, and even some DIY customization ideas.
Table of Contents
Popular Plants vs Zombies Plush Toy Characters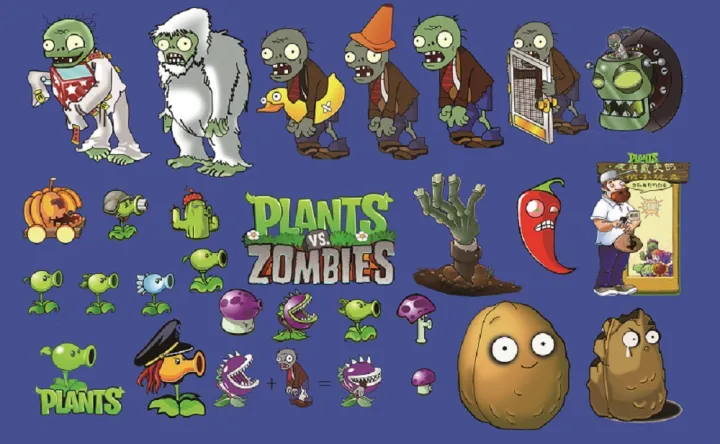 With such a diverse and colorful cast of characters in Plants vs Zombies, there's a plush toy for everyone! Here are some of the most popular Plants vs Zombies plush toy characters:
Sunflower: The cheerful and iconic Sunflower is a must-have for any PvZ fan. With its bright yellow petals and a smile that can light up a room, the Sunflower plush toy is always a favorite.
Peashooter: Armed and ready for action, the Peashooter plush toy is a cuddly companion for fans who love this classic plant character. With its pear-shaped body and snappy smile, the Peashooter plush is as charming as it is tough.
Zombie: Why not show some love to the game's antagonists as well? The Zombie characters have their own unique charm, and their plush toys are just as lovable. With a variety of zombies to choose from, including Football Zombie, Conehead Zombie, and the notorious Disco Zombie, you're sure to find one that captures your heart!
Wall-nut: Can your plush toy collection get any nuttier than this? The Wall-nut plush toy is an adorable and hilariously cartoonish addition to any fan's PvZ collection. It's large size and soft texture make it perfect for lounging or cuddling.
Chomper: With its fierce almighty bite, the Chomper plush toy is a plant powerhouse that's both adorable and formidable. This purple, toothy creature is sure to make a statement in any PvZ plush toy collection.
Now that you know some of the most popular Plants vs Zombies plush toy characters, you might be wondering where to find these gems. Here are some tips on where to buy PvZ plush toys:
Official Plants vs Zombies store: For authentic and high-quality plush toys, visit the official Plants vs Zombies store online. You'll find various characters, sizes, and editions to add to your collection.
Online retailers (Amazon, eBay, etc.): While the official store may not have what you're looking for, online retailers like Amazon and eBay are great resources for finding new, used, and hard-to-find PvZ plush toys. Just be sure to read the reviews and product descriptions carefully to ensure you're getting a genuine product.
Local toy stores: Don't hesitate to visit local toy stores in your area, as there may be a hidden stock of PvZ plush toys just waiting to be discovered. You might even stumble upon exclusive or limited edition items that aren't available online!
Collectible and specialty toy shops: For more obscure plush toy characters or special editions, consider browsing through collectible and specialty toy shops in your area or online. These stores often carry rare and sought-after items, making them a treasure trove for collectors.
Whether you're just starting out or have a growing collection, here are some tips for maintaining, expanding, and enjoying your Plants vs Zombies plush toys:
Cleaning and storage tips:

Keep your plush toys clean and free from dust by wiping them gently with a damp cloth or washing them on a delicate cycle. Store them in a cool, dry place away from direct sunlight to avoid fading, and store them in a display case or on a shelf to keep them in tip-top shape.

Trading with other collectors:

If you have duplicate toys or are looking to expand your collection, consider trading with other passionate Plants vs Zombies plush toy fans. Join online forums or visit local swap events and conventions to connect with fellow collectors.

Following PvZ news and updates for new releases:

Stay ahead of the game by keeping an eye on any new plush toy releases and updates. Follow Plants vs Zombies on social media and subscribe to newsletters to ensure you don't miss out on any limited edition or new characters!
Rare Plants vs Zombies Plush Toys and Special Editions
For dedicated collectors and fans, rare Plants vs Zombies plush toys and special editions can be the cherry on top of an amazing collection. Keep an eye out for these exclusive finds:
Limited edition plush toys: Occasionally, Plants vs Zombies releases limited edition plush toys to celebrate special events, anniversaries, or game updates. Stay informed and be quick to snatch up these rare and sought-after items before they're gone!
Exclusive event releases: Sometimes, PvZ plush toys are exclusively released at conventions, expos, or other special events. Attending these functions can not only help you nab exclusive items but also allow you to meet other fans and collectors.
Highly sought-after characters: Certain characters have become incredibly popular among fans and collectors due to their unique designs or notoriety in the game. Keep an eye on the market for these plush toy gems, as they tend to sell out quickly and maintain a high value.
DIY Ideas: Customizing Your Plants vs Zombies Plush Toys
If you're feeling creative and want to add your personal touch to your Plants vs Zombies plush toy collection, consider some of these fun DIY ideas:
Custom clothing and accessories: Design and sew mini outfits or accessories for your plush toys, such as hats, scarves, or even tiny weapon replicas. Use fabric paint or iron-on decals to create unique patterns and logos.
Repurposing old plush toys: If you have old or damaged plush toys, don't throw them away! Instead, use their parts as material to create new PvZ-inspired characters or combine them with existing PvZ plush toys for a unique hybrid creation.
Crafting PvZ-inspired furniture and décor: Use your artistic skills to create Plants vs Zombies-themed room décor, such as pillows, wall hangings, or even custom furniture pieces featuring your favorite PvZ characters.
Gift Ideas: Plants vs Zombies Plush Toys for Every Occasion
Whether you're shopping for a loved one or looking for the perfect gift to bring to a party, Plants vs Zombies plush toys make excellent gifts for fans of all ages. Here are some occasions when a PvZ plush toy could be just the right gift:
Birthdays:

What better way to celebrate a birthday than with a new Plants vs Zombies plush toy? Choose a beloved character or a limited edition variant for a unique and memorable gift.

Holidays:

During the holiday season, PvZ plush toys make for great stocking stuffers or festive presents under the tree. Plus, their soft and cuddly nature makes them perfect for snuggling up beside the fireplace.

Graduations:

A Plants vs Zombies plush toy can make an ideal gift for a graduate, regardless of their age. It's a fun and lighthearted way to mark the achievement of completing a major educational milestone.

Special milestones:

Whether celebrating a promotion, an anniversary, or the acquisition of a major collector's item, giving a PvZ plush toy as a gift can add an extra touch of fun and excitement to any special milestone in a person's life.
Connecting with the Plants vs Zombies Plush Toys Community
As you build and enjoy your Plants vs Zombies plush toy collection, don't forget to connect with the wider PvZ community. These platforms and events can help you find fellow enthusiasts, exchange tips, and learn about new releases:
Online forums and social media groups: Many Plants vs Zombies fan groups exist on platforms like Facebook, Reddit, and Discord. Joining these communities can help you connect with fellow collectors, share tips, and even trade or sell plush toys.
Fan conventions and events: Attending fan conventions—such as Comic-Con or dedicated Plants vs Zombies events—allows you to meet other fans, engage in lively discussions, and discover new collectibles firsthand.
Attending local meetups and swap events: Look for regional fan meetups and swap events in your area, where local collectors gather to trade, sell, or simply discuss their plush toy collections. You might even make some new friends along the way.
Final Thoughts on Building Your Plants vs Zombies Plush Toys Collection
Ultimately, collecting Plants vs Zombies plush toys is about enjoyment and passion for the game's quirky world. Embrace the community, share your love for the game, and have fun exploring the diverse and creative ways to express your Plants vs Zombies enthusiasm.
What's Your Reaction?